For information on our previous events, click here.
IFNA UK-Ireland Chapter Webinar Series 2021
Our first webinar of 2021 takes place on Monday June 7th 2021 (13:00-14:00 London, UK Time).
Register via Zoom Webinar here.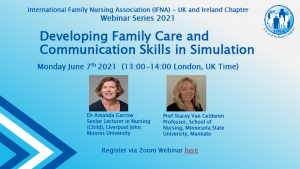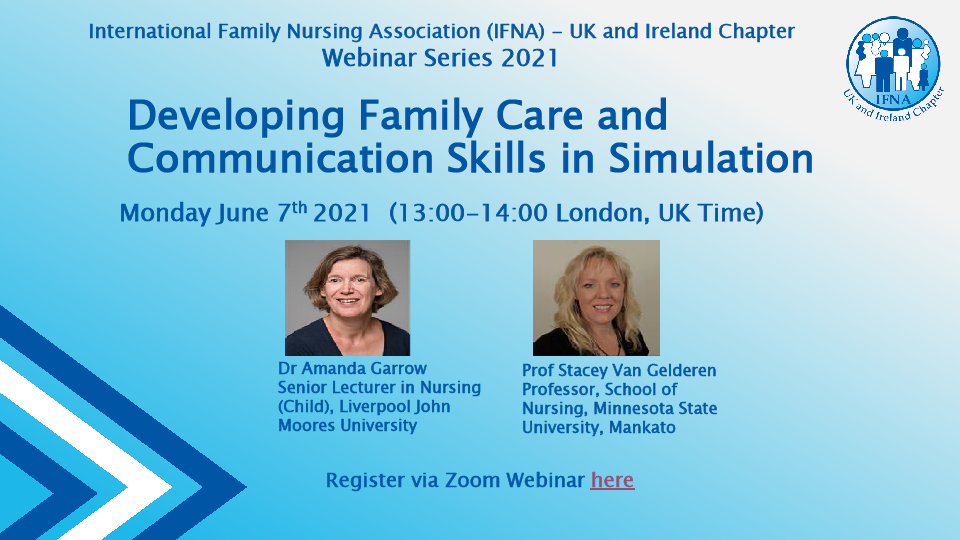 Webinar Series 2021
The IFNA UK-Ireland chapter has launched a series of webinars focused on developing, promoting, and sustaining a discourse around approaches to family nursing education, practice, and research within healthcare settings. The webinars are open to everyone interested in family-focused care skills and training in healthcare settings with aims to:
Connect and promote networking opportunities.
Share learning and experiences of improvement.
The first webinar focuses on 'developing family care and communication skills in simulation'.
The webinar objectives include:
Familiarization with the Van Gelderen Family Care Rubric (VGFCR).
Apply rubric to simulation video assessing family care and communication skills.
Explore the potential applications of the VGFCR.
The presenters are:
Dr Amanda Garrow (PhD, MSc, PG D ip, BSc.) Senior Lecturer in Nursing (Child), Liverpool John Moores University, UK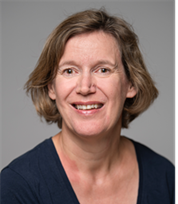 Amanda joined Liverpool John Moores University in 2020, she is an experienced nurse and academic who has worked in a variety of roles and organizations. Her clinical background is mainly in Paediatric Accident & Emergency. Amanda's doctoral study explored the use of simulation in pre-registration nurse education and her previous role was at Children's National Hospital in Washington DC where she worked as a Simulation Education Specialist. Amanda is a member of The International Family Nursing Association, The Society for Simulation in Healthcare and The Association for Simulated Practice in Healthcare. Amanda is a Certified Healthcare Simulation Educator and a Fellow of the Higher Education Academy.
Prof Stacey Van Gelderen (DNP, MS, RNC-MNN, PHN) Professor, School of Nursing Minnesota State University, Mankato, USA

Stacey is a nurse educator who has focused her career on building family-focused caring practices and communication strategies in nurses. She has been evaluating pedagogical approaches that make stronger links to family nursing science and clinical practice. Over the last 22 years, Dr. Van Gelderen's clinical expertise has been caring for childbearing and childrearing families. Dr. Van Gelderen is the primary author of the Van Gelderen Family Care Rubric (VGFCR) (2019, 2016) which is an evidenced-based validated tool that helps nurses develop family assessment and communication skills. This tool is recognized by the International Nursing Association for Clinical Simulation and Learning https://www.inacsl.org/resources/repository-of-instruments/#skillperformance and was recently awarded the 2018-2019 articles of influence by the Society for Simulation in Healthcare https://www.ssih.org/SSH-Resources/Articles-of-Influence.
The VGFCR is currently being utilized by healthcare staff and educators in nine countries across the globe. Dr. Van Gelderen serves on the International Family Nursing Association education committee and co-chairs the Simulation, Technology & Informatics subcommittee https://internationalfamilynursing.org/.  Dr. Van Gelderen offers workshops and consultations for simulation, nursing education, and family nursing science.
Register via Zoom Webinar here.
15th International Family Nursing Conference (IFNC15)
Monday 28 June to Friday 02 July 2021 (with pre-conference workshops on Wednesday 23 and Thursday 24 June 2021)
Click here to visit the official conference website.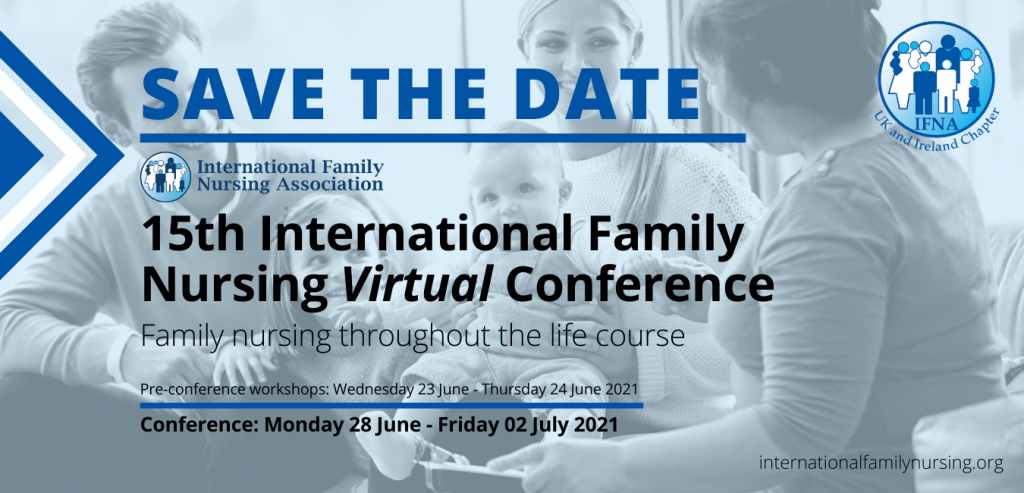 Virtual conference
The theme for the 15th International Family Nursing Conference (IFNC15), is "Family Nursing across the Life Course." The 15th International Family Nursing Conference will focus on engaging nurses¹, interdisciplinary colleagues, and families worldwide in exploring and discussing family nursing across the life course. Our conference will address family nursing at any points across the life course, i.e., from the perinatal period to childhood and young adulthood, through adulthood to older adulthood, and at end-of-life and during times of bereavement at any life course period and include technological advancements. The conference will emphasise promoting national and international collaborations among families, researchers, educators and clinicians to promote the capacity and capability of family nurses as advocates for optimal family health and well-being throughout the life course.
¹When using the term Nursing, we mean Nursing, Midwifery, and Health Visiting.
Although the conference was originally planned to take place in Dublin, Ireland, a decision was made to make the conference a virtual event, in light of the COVID-19 pandemic and uncertainty for international travel in 2021.
At the end of the conference, attendees should be able to:
Education: Disseminate innovative educational approaches from around the globe to assess, intervene/promote, and measure family health outcomes throughout the life course across all levels of nursing education.
Practice: Appraise family nursing practice innovations and models to inform evidence-based family health practice throughout the life course internationally.
Research: Examine influencing factors, innovative methodologies, advanced technologies, research evidence for practice, and translation of family nursing research related to education, practice, and policy throughout the life course worldwide.
Policy/Leadership: Analyse opportunities for encouraging family nurses to take active roles in health care policy and leadership to support family health and family care across the life course globally.
The conference will be co-chaired by Professor Veronica Swallow and Professor June Horowitz. Here are the rest of the conference planning committee:
Committee Representation
Jill Bally, (Canada) Education Committee
Maria do Céu Barbieri Figueiredo, (Portugal) Practice Committee
Kim Mooney Doyle, (USA) Research Committee
Cynthia Danford, (USA) Research Committee
Financial
Linda Young, (USA) Resource Advancement Committee
Kathy Knafl, (USA) IFNA Treasurer
Country Liaison Coordinators
Sarah Neill, (United Kingdom)
Ana Marcia Castillo, (Brazil)
Barbara Voltelen, (Denmark)
Local Planning
Veronica Lambert, (Ireland)
Student Engagement
Wendi Smith
Members
Regina Szylit, (Brazil)
Barbara Giambra, (USA)